ATTENTION ARLINGTON KIDS (and anyone else who would like to participate), a noon luncheon is being planned for Thursday, Feb. 15 at The Village (47th and Orchard) to honor Dennis' Mom, Mildred Dudley. Us kids in the "hood" want to celebrate what a "great PTA, room mother, and looking out for all of us" Mom she was back in the day. We have not decided the eats yet, may be a potluck. Suggestions welcome. Mildred has no "can't eat" restrictions, but spicy hot is probably not a good idea!. We originally wanted to take her to the fabulous Olive Branch Cafe where we had the MT '65 Ladies Luncheon, but she demurred wanting to do less traveling, which wears her out, and more visiting. Please RSVP to Penny at drostpe@msn.com.
_____________________________________________
_______________________________________
MT '65 Ladies Luncheon
A step back in time: Olive Branch Victorian
Tea Room and Restaurant
Wednesday, December 6, 2017
Kathy Faker, Wendy Stephens, Paula Robinson, Julie Johnson, Linda Smith
April Larson, Cathy Hanly, Julie Rush, Robbie Welch, Penny Drost
It was such a wonderful event, we decided to bring the MT 65 ladies together to catch up and stroll down memory lane at least three times a year - Spring, Fall and Winter - saving summer for our annual August mini reunion at Meadow Park. We have had two 70th birthday parties, our first ladies luncheon, a picnic gathering hosted by Pat and Patti (Corcoran) Conner and our first mini runion at Medowpark since our 50th Class Reunion in 2015. If you want to add an event to our "stay in touch" calendar, let Penny Drost know (drostpe@msn.com) for our web site and Julie Johnson (mamajules47@gmail.com) for our Facebook page.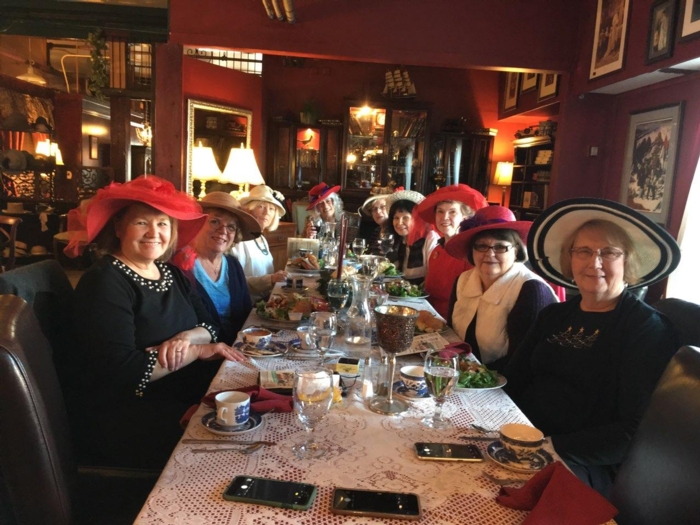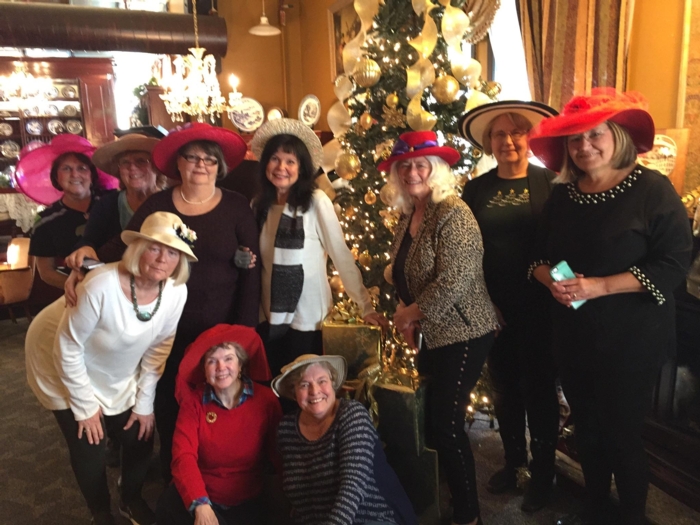 -----------------------------------------------------------------------------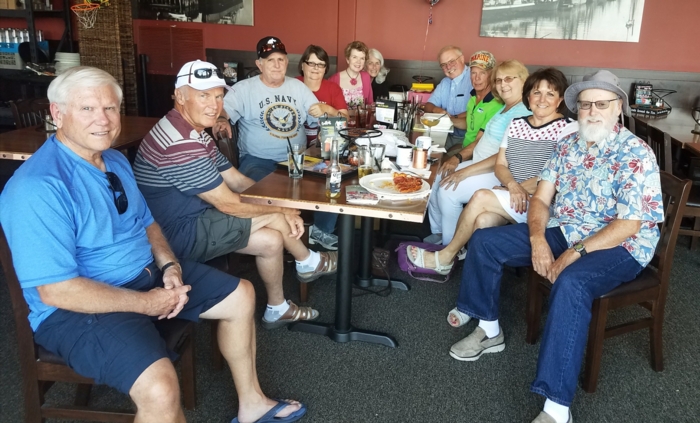 Craig Kerr, Brian Meidinger, Terry Elsdon ('64), Julie Johnson Elsdon,
Paula Robinson, Penny Drost, Dick Pedlar,
Mike Devereaux, Linda Smith, Robbie Welch, Rudy Font
Happy 70th Birthday to Us!
Tuesday, Aug. 22. 2017
Farrelli's at Point Ruston

Photos from August 12, 2017 Event are on Facebook
Mount Tahoma Class of 1965

AUGUST 13, 2016 GATHERING
Thank you to hosts Pat and Patti (Corcoran) Conner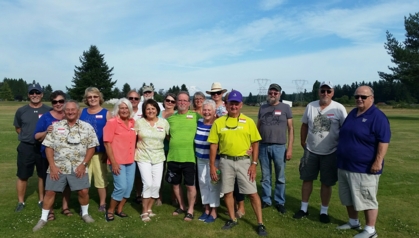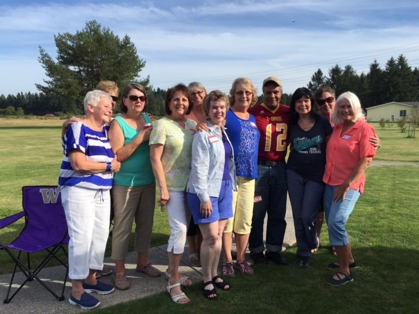 Sid Harr ('66) poses with the girls now including Paula Robinson and Wendy Stephens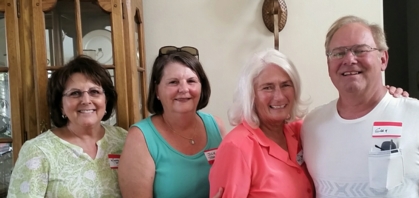 Friends since Arlington Elementary School: Robbie Welch, Julie Johnson, Penny Drost and Gary Mitchell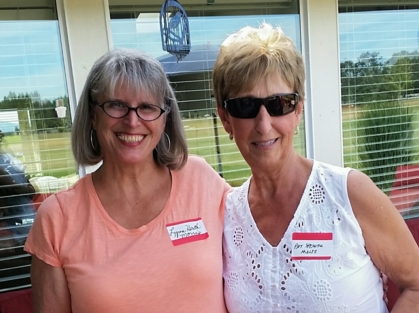 Lynn Herth and Pat Spencer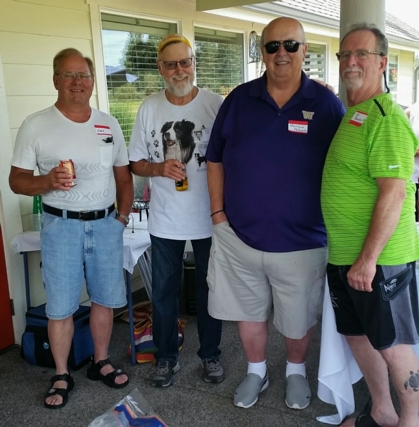 Gary Mitchell, Rudy Font, Harlan Holcomb, Ed Pauschert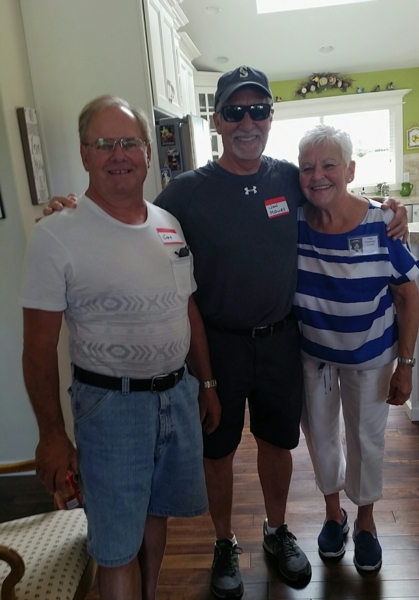 Gary Mitchell, Jon Mowry, Patti Corcoran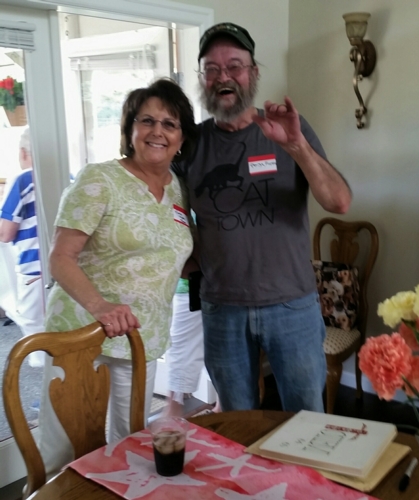 Robbie Welch and George Ferris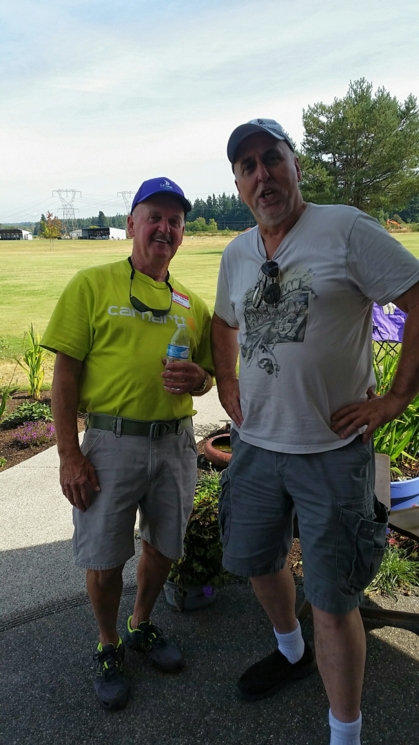 Pat Conner and Bob Taylor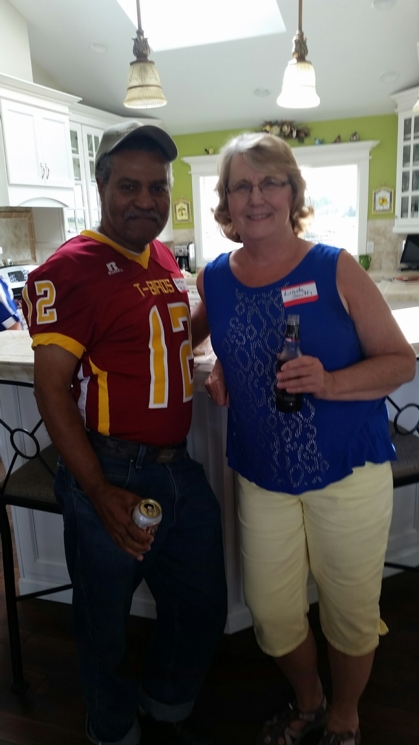 Special Guest Star Sid Harr, Class of '66 and Linda Smith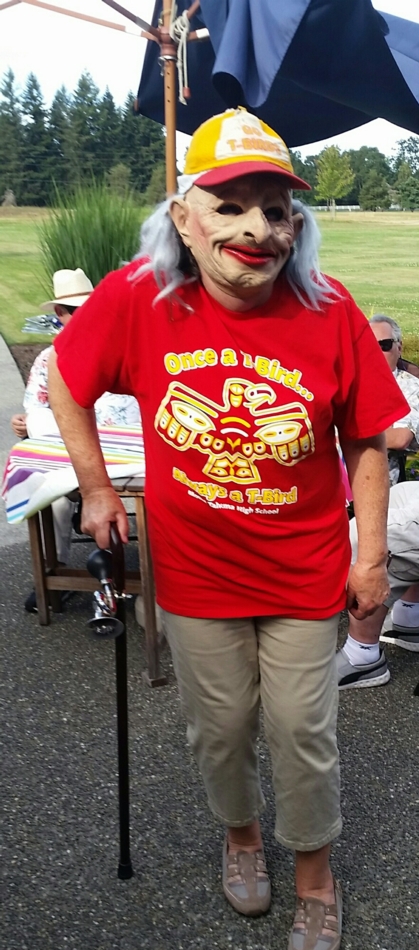 T-Bird Class of 1865
Guess who!
50th Reunion – Saturday, August 15, 2015
Check out the photo gallery "50thReunionPhotos"

Click here for: A special tribute video.
Friday, August 14, 2015
Tour of new Mount Tahoma arranged by Julie Johnson Elsdon and led
by her daughter Kari-Ellen. What a great kick-off for our reunion!
"We're the class with all the drive, Mount Tahoma '65!"
Winner of the class pep assembly competition all three years!!!

July 5, 2014, Lunch at Dukes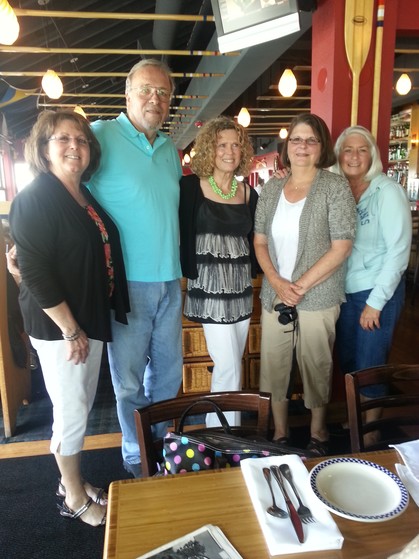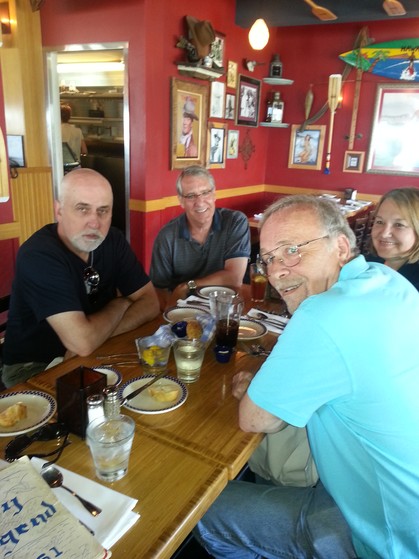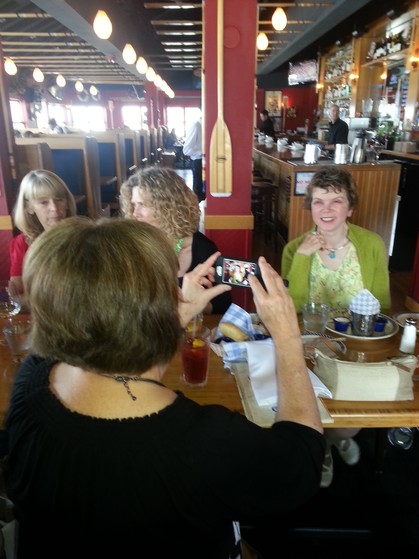 Robbie Welch, Dennis Dudley, Bonnie Nichols, Julie Johnson, Penny Drost, Bob Taylor, Jon Mowry, April Larson, Linda Keith, Paula Robinson. Plus Robbie's mom Betty, sister Barbee, and Bonnie's sister-in-law Chris.
Gathering of MT '65 ladies August 2012 and July 2013
2012 (top photo):Suzi Feldman, Julie Johnson, April Larson, Robbie Welch, Cheryl Battson, Julie Rush, Jan Berg, Penny Drost, Judy Johnson and Beth Aalbue. In 2013, Jeanette Hansen, Linda Keith, Deborah Meeds and Paula Robinson joined Penny, April, Cheryl and Jan.