Looking to connect with a classmate who has not joined our site? Let us know and we will post his/her name and your name and email address so classmates who have the information you are seeking can contact you.
1/1/22: Terry Peters Clayton is looking for Nancy Hansen. Claytontr@comcast.net

Bates on Board!
'65 takes the lead! The Class of '66 and the Class of '65 established an endowment fund to grant scholardhips at Bates Technical College for future Mount Tahoma graduates. In first place at $2000 in donations is "The Class with All the Drive!" You will recall it was the Class of '66 that grabbed first place (we came in a strong second place) in fundraising for the Clover Park Technocal College scholarship fund which is now complete. $10,000 is needed to begin the Bates endowment scholarships. See below for details. At the moment, only checks can be recorded by class; we hope electronic donations will soon also be trackable by class. Go T-Birds!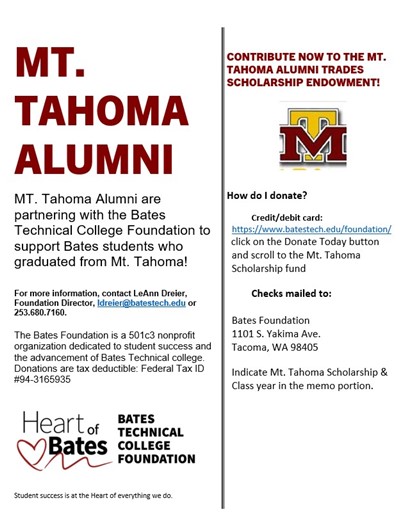 CPTC Scholarship Endowment Fund Update
We did it!!! The CPTC Endowment Fund is now established. In the class competition for raising funds: '66 first place, '65 second place, '62 third place. '66 and '65 are currently working with Bates to establish a scholarship fund there. Stay tuned, it will go live soon.
In the meantime, donations can still be made to theh CPTC Endowment - online, by cash or check, or via planned giving. Donations will be confidential, known only to the CPTC Foundation, who will provide tax receipts. Online: www.cptc.edu/MtTahomaGives
Cash/Check: CPTC Foundation, 4500 Steilacoom Blvd. SW, Lakewood, WA 98499 (please write Mt. Tahoma in the memo line, including your class).
For securities transfers, IRA contributions or RMD's, please contact CPTC Foundation at 253-589-6089. Contributions are tax deductible.
Federal Tax ID: 91-1565219



_____________________________________________________________
Looking Back
Ladies Only Event
Thursday, August 30, 2018
Fabulous! Lunch at the Market Place Grill and fun shop hopping.
'65 Ladies: Sue Brown, Connie Swanson, Penny Drost, Wendy Stephens,
April Larson and Paula Robinson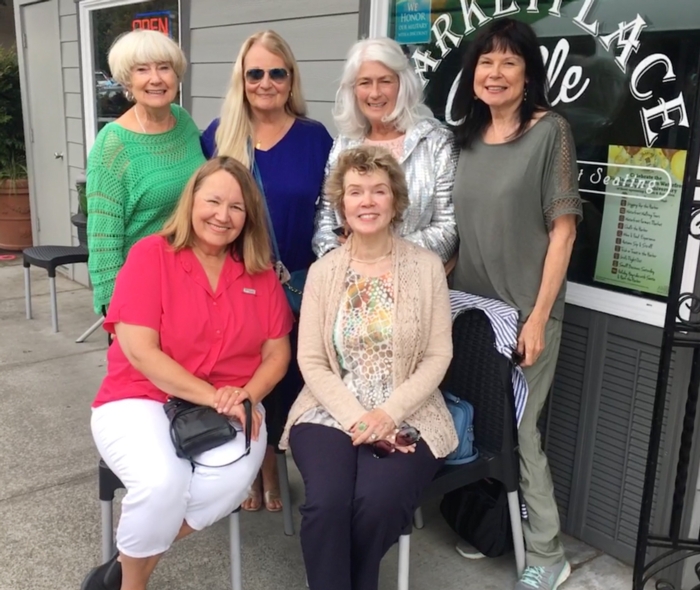 One Terrific Mom, One Terrific Day!
The "Arlington Kids" plus three MT '65 Kids brought lunch to Mildred Dudley on Feb.15. Oh, the stories. We laughed and laughed.
Arlington Kids: Gary Meier, Robbie Welch, Dennis Dudley, Julie Johnson and Penny Drost.
Mount Tahoma '65 Kids: Paula Robinson, April Larson and Bob Taylor.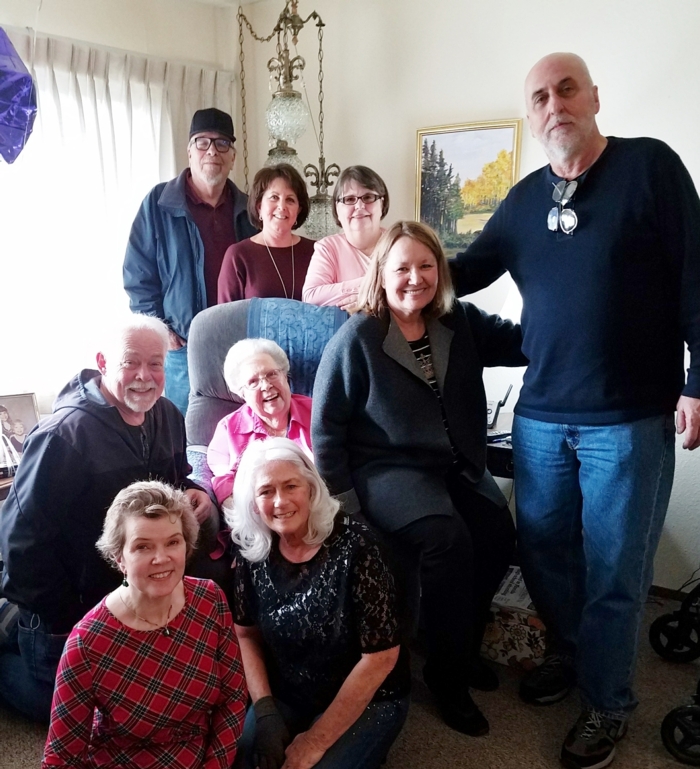 ____________________
_______________________________________
MT '65 Ladies Luncheon
A step back in time:
Olive Branch Victorian Tea Room and Restaurant
Wednesday, December 6, 2017
Kathy Faker, Wendy Stephens, Paula Robinson, Julie Johnson, Linda Smith
April Larson, Cathy Hanly, Julie Rush, Robbie Welch, Penny Drost
It was such a wonderful event, we decided to bring the MT 65 ladies together to catch up and stroll down memory lane at least three times a year - Spring, Fall and Winter - saving summer for our annual August mini reunion at Meadow Park. We have had two 70th birthday parties, our first ladies luncheon, a picnic gathering hosted by Pat and Patti (Corcoran) Conner and our first mini runion at Medowpark since our 50th Class Reunion in 2015. If you want to add an event to our "stay in touch" calendar, let Penny Drost know (drostpe@msn.com) for our web site and Julie Johnson (mamajules47@gmail.com) for our Facebook page.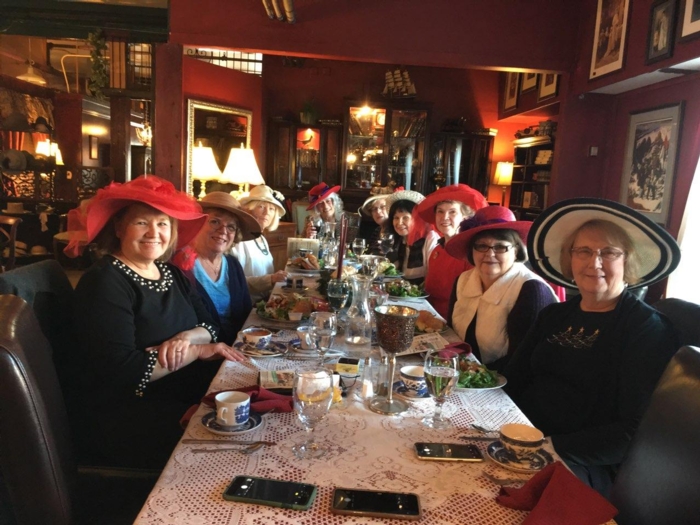 -----------------------------------------------------------------------------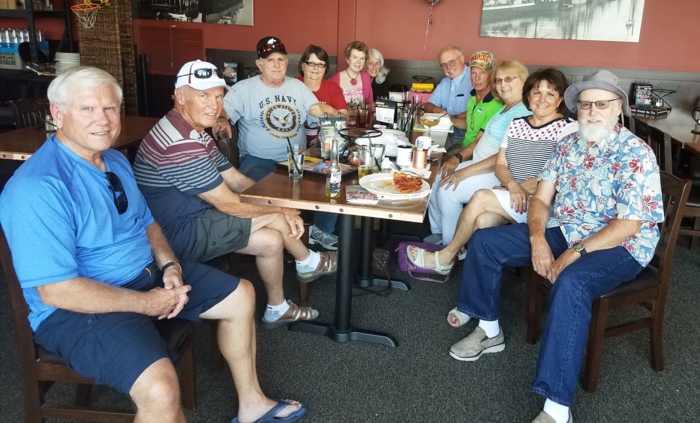 Craig Kerr, Brian Meidinger, Terry Elsdon ('64), Julie Johnson Elsdon,
Paula Robinson, Penny Drost, Dick Pedlar,
Mike Devereaux, Linda Smith, Robbie Welch, Rudy Font
Happy 70th Birthday to Us!
Tuesday, Aug. 22. 2017
Farrelli's at Point Ruston

Photos from August 12, 2017 Event are on Facebook
Mount Tahoma Class of 1965

AUGUST 13, 2016 GATHERING
Thank you to hosts Pat and Patti (Corcoran) Conner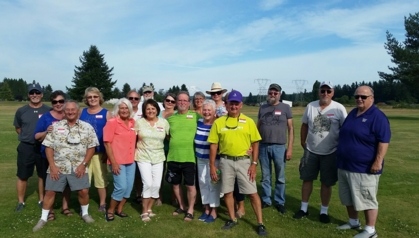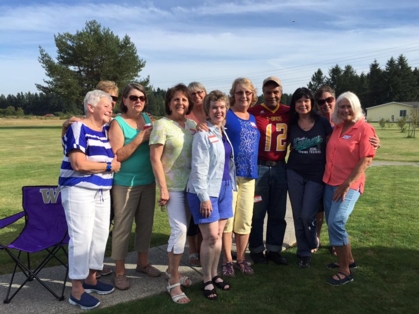 Sid Harr ('66) poses with the girls now including Paula Robinson and Wendy Stephens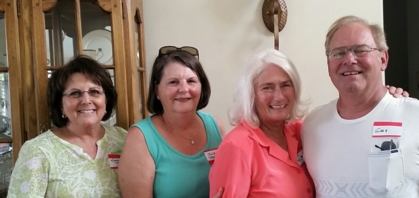 Friends since Arlington Elementary School: Robbie Welch, Julie Johnson, Penny Drost and Gary Mitchell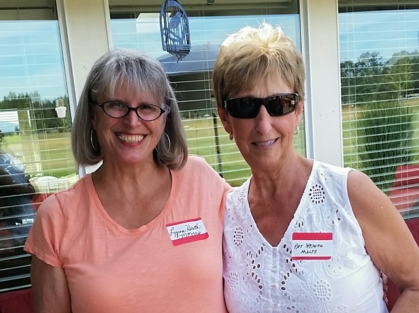 Lynn Herth and Pat Spencer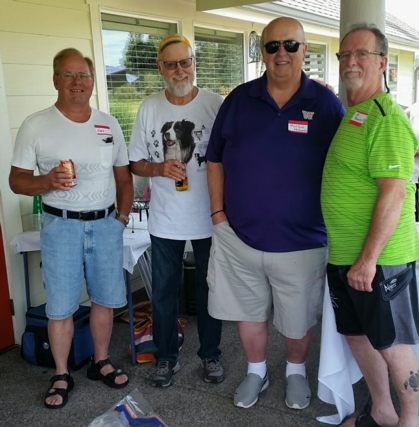 Gary Mitchell, Rudy Font, Harlan Holcomb, Ed Pauschert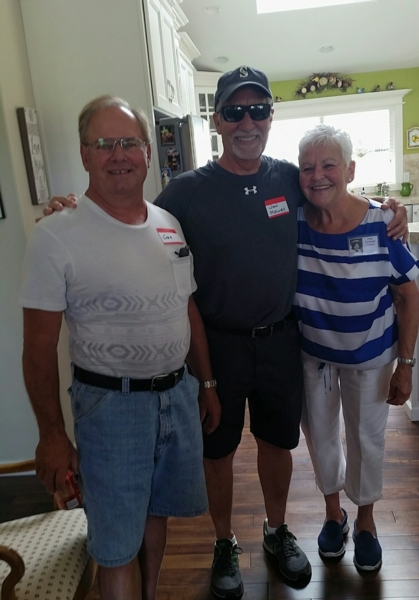 Gary Mitchell, Jon Mowry, Patti Corcoran
Robbie Welch and George Ferris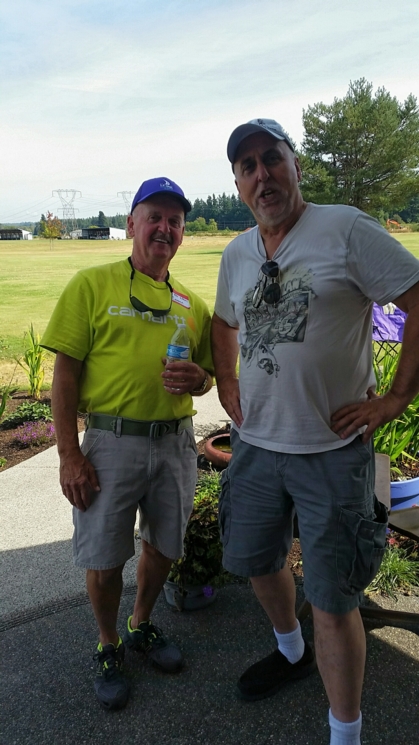 Pat Conner and Bob Taylor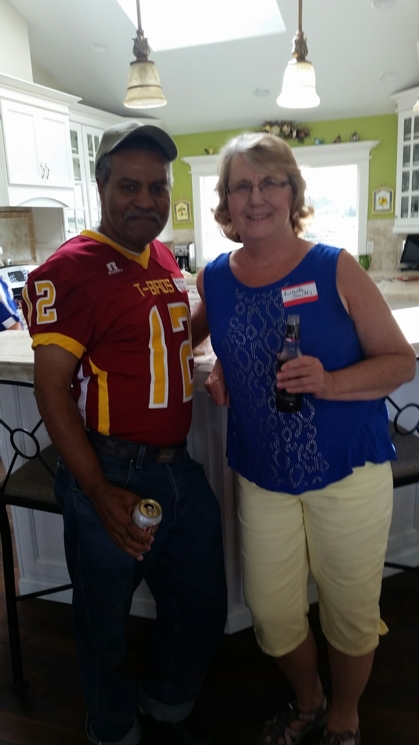 Special Guest Star Sid Harr, Class of '66 and Linda Smith
T-Bird Class of 1865
Guess who!
50th Reunion – Saturday, August 15, 2015
Check out the photo gallery "50thReunionPhotos"

Click here for: A special tribute video.
Friday, August 14, 2015
Tour of new Mount Tahoma arranged by Julie Johnson Elsdon and led
by her daughter Kari-Ellen. What a great kick-off for our reunion!
"We're the class with all the drive, Mount Tahoma '65!"
Winner of the class pep assembly competition all three years!!!
July 5, 2014, Lunch at Dukes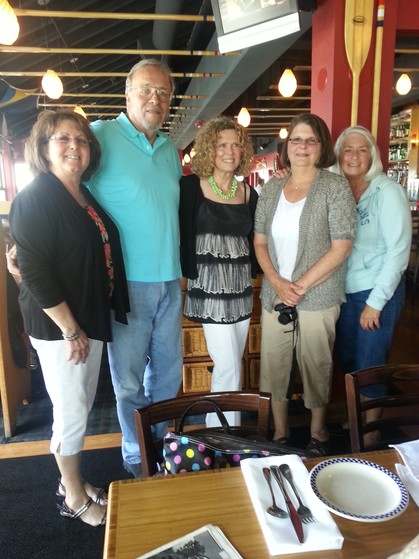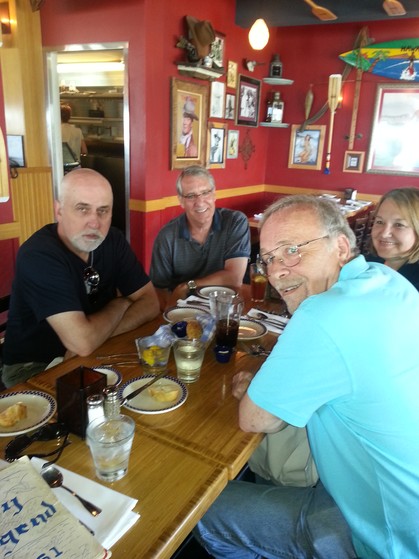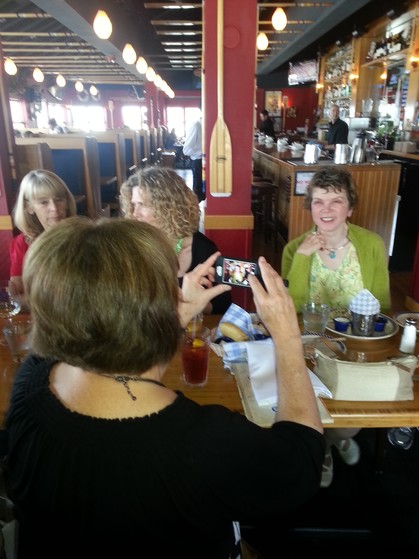 Robbie Welch, Dennis Dudley, Bonnie Nichols, Julie Johnson, Penny Drost, Bob Taylor, Jon Mowry, April Larson, Linda Keith, Paula Robinson. Plus Robbie's mom Betty, sister Barbee, and Bonnie's sister-in-law Chris.
Gathering of MT '65 ladies August 2012 and July 2013
2012 (top photo):Suzi Feldman, Julie Johnson, April Larson, Robbie Welch, Cheryl Battson, Julie Rush, Jan Berg, Penny Drost, Judy Johnson and Beth Aalbue. In 2013, Jeanette Hansen, Linda Keith, Deborah Meeds and Paula Robinson joined Penny, April, Cheryl and Jan.